You know your home needs a remodel. However, often it takes one final event that lets you know you can't put it off any longer. Sometimes, one project leads to another.
When you hear a loud noise from somewhere in the house, your instinct to find out if everybody's okay which can sometimes overwhelm the curiosity about the source of the noise.
When my daughter yelled from the toy room, and I heard her say under her breath: "Too much stuff!" I knew it was time.
The House
Our house is a tri-level built in 1974, at the exact same time my in-laws were moving out. Three days later, I my daughter was born, so we never unpacked some stuff, and the closets pretty much contain the same items they did eight years ago. Of course, we have acquired more since.
The first year, we removed a lot of miscellaneous things, and often filled our garbage container. Many rooms have been purged several times. Two years ago, we decided to get serious about purging and simplifying, and we have kept to that commitment.  This summer, we gave away six pieces of furniture that were not being used.
Somehow there's still not enough room for all of our stuff.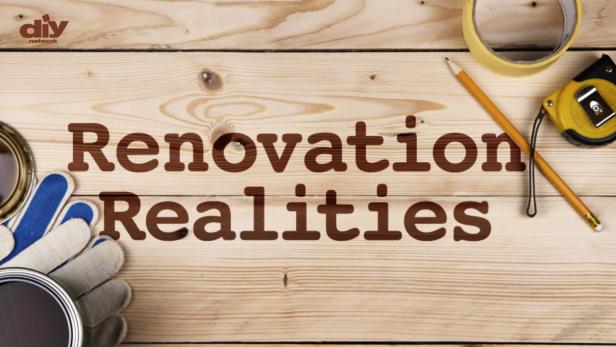 The Remodel Idea
Then I got the overly enthusiastic idea to remodel a couple of things.
Experienced remodelers/homeowners know how this domino game goes, though. Everything is up for a change, and once one thing is considered so are three more.  For example: You can't just replace the flooring because of course you should replace the cabinets and countertops while the floor's up, since you need to take the floor up to do that. And of course, the walls and ceiling will need repainting. How old are these windows and roof, anyway? The oven's got a few glitches, and the list goes on.
We agreed on a couple of the priorities on the list, then drew up a layout. We hemmed and hawed over wants vs needs, like a new garage, and we ended up with plans to add 1000 square feet to the house, besides all the other changes. Then we asked a construction friend about the cost per square foot for our Dream Project.
We choked on the estimate.
The Modified Idea
We both were pretty bummed out until we decided we could try a plan B. We looked at other plans that compromised a few things, but certainly would bring the cost down to something we might be able to do more than dream about. Skip the new garage to save on costs, remodel the basement and the upstairs bedrooms, still redo the kitchen but more reasonably, and replace the flooring. We even had an interior designer in to look at our agreed-upon plan, and got some other cost-saving ideas from her.
The modified dream was looking more like a potential reality.
The Storage Problem
The work would need to be done and ran into another issue. Where would we put our stuff while the work was being done.
The real issue was that before the demo work happened, we'd have to get all the furniture and electronics and all the other stuff out of the house and put in storage.
We decided instead of spending money on storage. We'll build a barn, and researched what metal buildings cost. The additional storage would add value to our home and make the remodel doable.
Since we wanted to:
park an actual car in the garage,

have new flooring,

utilize nicely organized closets
We agreed.
Paying For It
We decided to refinance so we can build a metal building for storage. We then plan to start the remodel, prioritizing what we can and cannot get done.
There are other financing options as well. Second mortgages or private loans are available if you qualify.
In any remodeling situation, one thing leads to another. Even if you start with big plans, you can whittle them down to something manageable. Then you can deal with your storage issues, and determine how you are going to pay for it all.